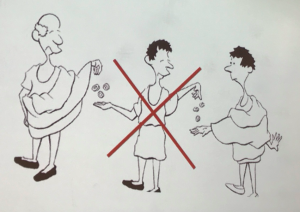 Foto @bmueller
BLOCKCHAIN NEWS
Siemens invests in LO3
Blockchain for energy Microgrids
Marine insurers jump into blockchain
Following last year's heavy damages from hurricanes in the United States and the Caribbean, the shipping insurers' association IUMI wants to increase its acceptance of blockchain technology.
Source: Herbert Frommes Versicherungsmonitor 
Russia: Does the blockchain help against election manipulation?
The Russian capital Moscow apparently intends to use a blockchain solution in the future to optimize the election mechanism.
Source: BTC-ECHO
BLOCKCHAIN-UX
Our analyzes confirm that Blockchain technology will make a breakthrough across industries and branches in 2018. Numerous applications will gain a firm place in the business, challenging and changing old and established business models.
The number of concrete applications  is growing steadily. The new Blockchain offerings Ethereum or Hyperledger Fabric offer more performance and reduce the disadvantages of previous generations. New algorithms will make transactions more energy efficient, faster and more secure. IOTA and Hyperledger Fabric are gaining wide acceptance in Industry 4.0
Current Blockchain Developments in Germany:
# Cryptocurrency
– Currently there are more than 1500 Cryptocurrencies worldwide
# Finance, Insurance and Energy
– New business models in Finance, Insurance and Energy
– Decentralized Energy Supply through Smart Meters
– Using ICO as new form of VC-Financing
# Public Authorities
– Administrative processes in Public Authorities
– New solutions for Accountants and Notaries
# Automotive/ Automation/ Mechanical Engineering
– Bosch "Trusted IoT Alliance" on global Automotive-Automation (Industry4.0)
– BMW enters the blockchain with startup VeChain
– Porsche using Blockchain for secure communication between autonomous cars
– Minimize safety risks associated with Additive Manufacturing – 3D printing
# Fleet Management
– Blockchain base stations for Fleet Management (Commercial Vehicles, Car Rental)
# Media
– Blockchain – game changer for the Media Industries
# Touristic
– TUI is reorganizing its global Hotel capacities
# Transportation – Logistics
– Logistics applications, especially where physical products are transported
– Food Safety
# Real Estate
– New rental platforms are changing the business models of Real Estate Agents
Outlook:
In the near future, Artificial Intelligence (AI) will connect with Blockchain and challenge corporate business models again substantially.
In our Blockchain-UX Thinktank, we observe these developments and will create new applications with our technology partners.
For consultations and development partnerships, we are happy to assist companies.
+49 (0) 89 4900 9977