Web 3.0 vs. the metaverse, what's the difference? Both have been called the internet of the future, but they aren't the same thing.
Shaping future education with digital technology helps educators and other stakeholders make innovations for the new generations of learners in the coming years.
Storytelling 3.0:  People-centered organizations need people-centered processes. It is about creating a state of mind that starts with a change of heart.
When can we invest in new business opportunities, companies, and startups?
Web3 is expected to offer many possibilities to disrupt established markets.

Facsimile4.0

– the metaverse will take many forms, including gaming, online communities, and business meetings where people collaborate via a digital facsimile or avatar of themselves.
 Metaverse(s), potential new megatrends?

How close are metaverses?
Among others, Meta Platform around Mark Zuckerberg is investing to build another promising future. Other companies such as Nvidia, Intel, Qualcomm, Microsoft, Sony, Adidas, Nike, Hyundai, Lego, Kawasaki, Siemens, and others are investing many billions in these new web3/ metaverse options of the future.
What can I personally expect from web3/ metaverse – when can I invest in new business opportunities, companies, and startups?
What is the metaverse?

The prototypes were described in 1992 in the novel Snow Crash. Later, several companies developed online communities based on this concept, most notably Second Life, which was released in 2003.
How do the internet and metaverse differ?
The internet is a network of billions of computers, millions of servers, and a multitude of electronic and networked devices. Once online, internet users can communicate with each other, view and interact with websites, and buy and sell goods and services.
The metaverse does not compete with the internet but builds on it.
In the metaverse, users traverse a virtual world that mimics aspects of the physical world using technologies such as virtual reality (VR), augmented reality (AR), artificial intelligence, social media, and digital currencies. The internet is something that people "browse" and to a certain extent, people can also "live" in the metaverse.
What is relevant for me in this environment?

What relevance does the whole topic have for me at all in the future?
Which opportunities I should seize, or even with which period I must invest in which way?
Fig. 1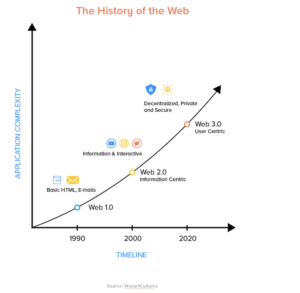 Behind this question is one thing above all, the approach to the metaverse in the new internet period. Currently, most of us only know about the first games, maybe a few concerts or other events, and advertising in the digital worlds that have made headlines in the recent past. These may already be concrete, but they are probably only initial starting points.
How will Storytelling 3.0 develop? What impact will this have on Munich Media Speakers, a rhetoric storytelling 2.0 platform that we founded at the Strascheg Center for Entrepreneurship in Munich in 2010?
Gartner does not comment specifically on these possibilities.
(Fig.2)